Seattle's ZooTunes eliminates over 27,000 single-use cups in just 12 concerts.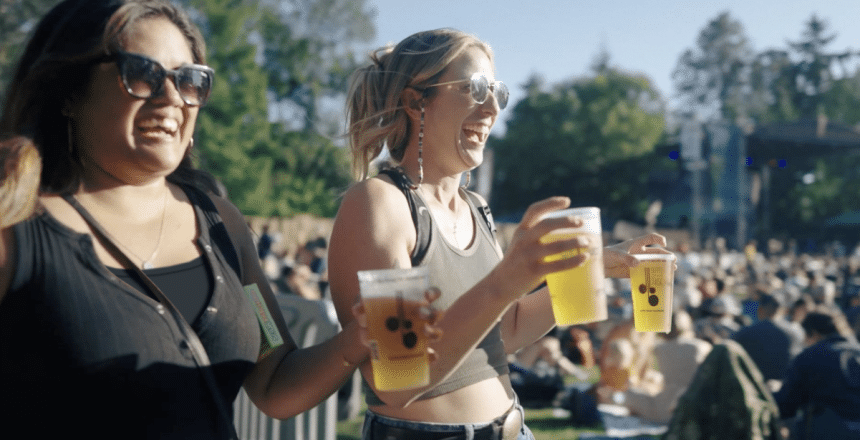 When the Indigo Girls played to a sold-out crowd on the lawn of the Woodland Park Zoo last June, they kicked off a new way to enjoy beer and wine at Seattle's iconic ZooTunes series with a shout-out to r.Cup, the innovative new cups their fans were holding.
That night, the zoo served beverages in reusable r.Cups for the first time—instead of the usual disposable plastic cups—and the change was a hit. By the end of summer, ZooTunes had kept 27,380 single-use cups and 471 pounds of trash out of the waste stream, and fans were raving.
"We've gotten incredible feedback about r.Cups here at ZooTunes," says Liv Johansson, the zoo's sustainable waste management specialist. "A lot of our patrons come up to us specifically to thank us for doing this work and to ask how they can get it going at other venues."
"It really fits with our operations."
To make the switch to r.Cup, whose parent company is r.World, Liv had to get buy-in from every level of the zoo's organization—from the CEO to the concessionaire. Fortunately, the r.World solution was a strong sell.
"What I liked about r.Cup is it doesn't have to be something the organization does. We don't have to wash the cups in-house, we don't have to source the cups in-house—r.Cup just handles that extra work."
As a cup rental service, the local r.World team delivers clean cups before every ZooTunes performance and picks up the used cups the next morning.
"It took our staff no time at all to really learn about the system," she says. "And the r.Cup team's been incredibly helpful in streamlining our operations here on site."
A win/win
For Liv, switching to r.Cup was a win for the zoo—and a personal success. She's passionate about promoting zero waste.
"Introducing r.Cup to the zoo and to the Seattle music community was a great opportunity to showcase how easy and important and effective reusable alternatives are, compared to disposable ones," says Liv.
She adds: "And these cups are an improvement over their flimsy disposable alternative. We get that feedback a lot actually, from the customers…. It's much nicer to drink out of a real cup."