How Seattle's Showbox is eliminating single-use waste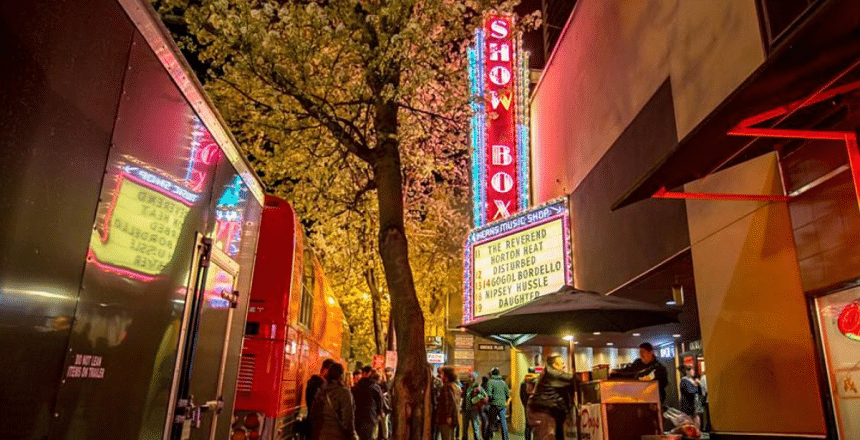 On the mornings after a show at Seattle's Showbox Theatre, Rob Thomas would walk past the venue's dumpsters and inwardly groan. As the regional vice president for AEG Presents in the Pacific Northwest, Rob had a front-row seat to the amount of single-use waste his organization was generating, and it didn't sit well with him.
"Seeing an overflowing dumpster with trash and water bottles is demoralizing," he says. "I have three children. I want there to be a climate for them as they grow up."
On top of that, Rob saw dollar signs in those dumpsters—he was paying thousands to have it hauled off every week.
So when Amy Dunn, who was general manager of three AEG Seattle venues at the time—The Showbox, Showbox SoDo, and Marymoor Park—came to him with a solution, he was all ears.
We need to get rid of all this trash.
Amy was having similar concerns. "As general manager, I noticed how much of our waste was going into a landfill," she says. "Even though we had recycling, it was so contaminated, we were having to get it hauled away as trash. That was really disheartening for me."
She'd recently met Michael Martin, founder of r.Cup and its parent company r.World, and, as she listened to Michael describe his reusable cup solution, she says, "A light bulb went off in my head. I was like, 'We can make such an impact in live events by switching to reusable cups!'"
It sounded good. But would it work?
As VP, Rob needed more than a lightbulb moment. He needed facts. So the AEG Seattle team began comparing aluminum cups, compostable cups, and other sustainable solutions. It didn't take long to zero in on the best.
"Through our research, we found that reuse is the best option, and partnering with r.Cup is the best way for us to implement it."
Everyone loves it.
Because Amy's role was to keep three venues running smoothly at once, her biggest concern was whether r.Cup could be rolled out without a hitch. She was impressed with how easily the system works. Cups are delivered and picked up every day, and harvest rates are high.
And guests? They love it.
"A lot of patrons will say, 'This is so cool! Why aren't other venues doing this?'" says Amy.
After their rigorous vetting, Rob feels good about their decision to use r.Cup. "We want to reuse as much as possible in all aspects," he says, "and if we can start with cups—and r.Cup—we can move on to the next thing and grow from there."