In Seattle, reuse is the new recycle, and r.World is making it possible.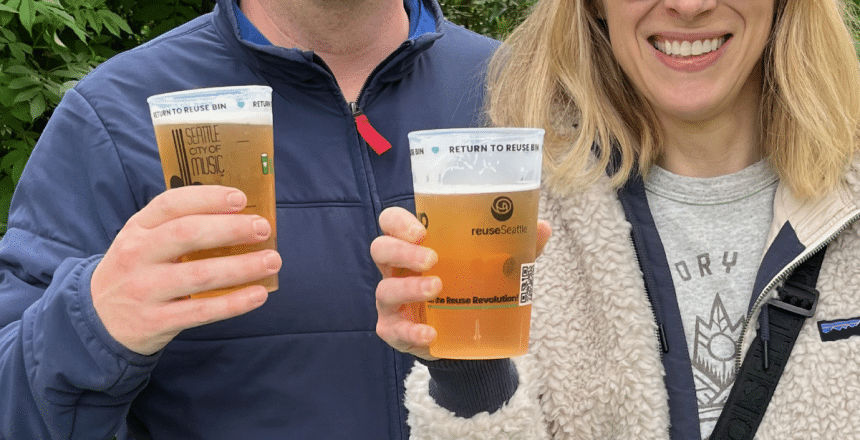 The city of Seattle is a leader in environmental initiatives like recycling and composting, but now they're one of the first cities in America to begin implementing reuse solutions on a broad scale.
"We're increasingly focused on how we can actually prevent waste in the first place," says Ashima Sukhdev, a policy advisor with Seattle Public Utilities who helped launch Reuse Seattle, a public/private effort to build the first citywide reuse system for food and beverage containers.
"We really want to encourage businesses within Seattle to move away from that single-use approach," she says.
"You might have cups that are being recycled or composted, but at the end of the day are only being used once."
Ashima Sukhdev, Climate Mitigation and Circular Economy Policy Advisor for Seattle Public Utilities
Why reuse?
"Reuse beats single-use every time from an environmental standpoint," says Stephanie Thomas, an environmental consultant who's part of the Reuse Seattle team. "Every life cycle analysis report you look at is going to say that."
Ultimately, Seattle wants reusable cups and clamshells to become the norm, so no matter where you are—a restaurant, a school, a workplace—you'll receive your food and beverages in containers that are easily returned, cleaned, and reused.
"We want reuse to be accessible and convenient and affordable for everyone," says Stephanie.
To build the systems and infrastructure required to accomplish this, the city's starting with "closed" scenarios like live events and concerts, where billions of single-use cups are disposed of every year nationwide, and where it's relatively easy to collect used cups.
r.World's partnership is key.
"r.World's role has been instrumental in the Reuse Seattle program from the very beginning," says Stephanie.
"They're known for their expertise in the music and entertainment industry. They'd launched programs at venues all around the country. We really felt like having a service provider with that deep level of expertise was important," she says.
In order to be able to provide consistent, personalized service to Seattle's businesses, the r.World team built a local wash hub, where cups can be cleaned before being delivered again (and again and again) for reuse. The centrally located wash hub provides cleaning services to other Seattle reuse providers as well (and, importantly, it offers second-chance employment opportunities to local residents).
"A critical part of any reuse system is actually washing the item that needs to be reused," says Ashima. "The fact that there's this shared washing infrastructure available that's being developed by r.World is critical to that broader system and to scaling reuse in Seattle."
"Having r.World decide to invest in the city of Seattle and open the city's first wash hub really helped take the whole initiative from visioning and dreaming to just make it a reality."
Stephanie Thomas, Vice President and Co-Owner at Cascadia Consulting Group
"People are ready for it."
"I think the r.World system works so well in Seattle because they've just done this," says Stephanie. "They've tried and tested all of the different elements of the system and really have fine-tuned and found a process that just works."
She adds: "As we've seen the reception that people have, it feels like something that should have happened years ago, but it's also something that we're seeing that people are just ready for. They're excited about it."