Pollstar Live! spotlights r.Cup, from r.World, as a sustainable solution for live events. Here's why.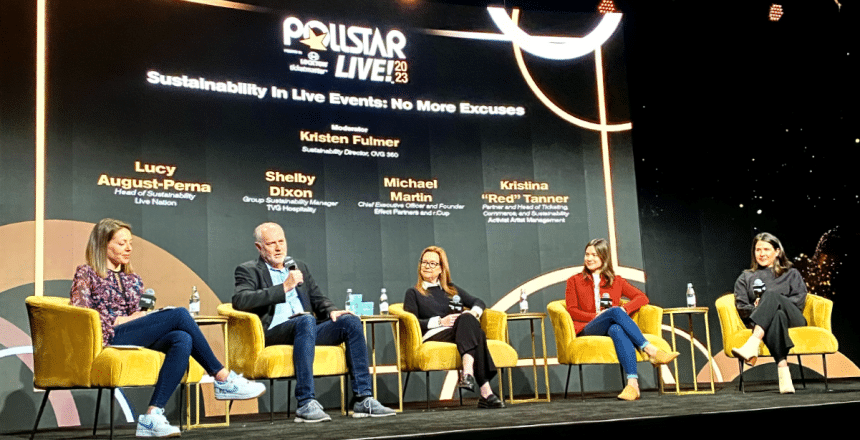 Some of the biggest players in live events recently gathered at Pollstar Live! to talk about greening an industry that's been (among other things) sending four billion single-use cups to landfills every year.
"Let's talk about the solutions" was the challenge from Kristen Fulmer, Sustainability Director at OVG360, to a panel of leaders from Live Nation, TVG Hospitality, Activist Artists Management, and r.Cup.
The panel was aptly named: "Sustainability in Live Events: No More Excuses".
Which solutions are doable?
Every venue or event manager knows that not every good idea actually works in the context of a live event—so the panelists focused on what does, including finding ways for artists to model sustainable choices and introducing reuse to venues.
"It's gotta be easy, gotta make economic sense, gotta be clean, and gotta make environmental sense," said Michael Martin, founder and CEO of r.Cup and r.Cup's parent company, r.World, about what kind of sustainable solutions will stick.
Live events are leading the way with reuse
As Martin explained, r.Cup is the first national reuse platform of its kind, and it's been implemented in over 100 cities across 35 states and 12 countries. The r.Cup solution from r.World makes it easy for live events to eliminate single-use cups by dropping off cups to the venue, providing return bins, picking up the cups, washing and sanitizing them, and returning them to the venue for reuse.
He emphasized that the r.Cup team is focused on creating not just a reusable cup, but building the entire infrastructure for reuse, starting with the live event industry.
According to Pollstar, sustainability is here to stay for live events. "Fans are asking for it," Martin told the audience, "[along with] communities, venues, and especially artists."
Read the Pollstar article here.